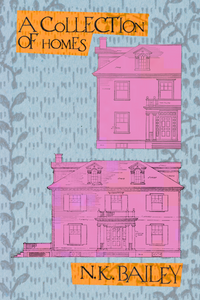 Poetry, chapbook, 40 pages, from Bottlecap Features.
A Collection of Homes is a poetry anthology written to process the complicated natures of homes. In this debut chapbook, N.K. Bailey asks, what is home and how do we create it? Some homes have strong foundations while others are built to fall apart. Across twenty-one separate poems, N.K. Bailey reflects on her experiences with homes of all sorts, capturing both universal emotions and a perspective deeply personal to the author. The book is split into three sections: Construction, Demolition, and Rebuild, each of which peels back the journey one takes when living through grief and learning to brave hope again. A Collection of Homes invites readers to feel the tension between craving comfort and living through chaos. As the author plays with ideas of growth, Bailey's poems experiment with various formats. But as her words stretch on, you are left with the hopeful refrain of: What's next?

Natasha Kathryn Bailey, known professionally as N.K. Bailey (she/her), grew up in rural Oregon among the vines of her father's vineyard and surrounded by the hills and deep forests of the Pacific Northwest. She has since explored the world traveling through countries like Spain, France, the UK, and Ireland, and has recently road-tripped across the United States. N.K. Bailey graduated from Linfield University with a bachelor's degree in Creative Writing and is currently working as a full-time writer for Tasting Table. She is also now pursuing her creative interests by working on her poetry and in-progress novel.