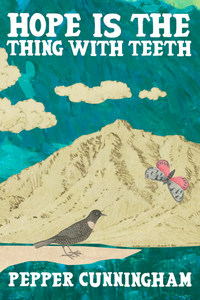 Poetry, chapbook, 28 pages, from Bottlecap Features.
Hope Is The Thing With Teeth is a collection obsessed with obsession. The poet is isolated and sending letters to her lovers and ex-lovers, she's drunk on her balcony watching the moon, she's collecting dead insects from the side of the road and wondering why she's spinning out. Boundaries are blurred with her ex. The birds and butterflies are laughing at her. She's an anxious alcoholic in attempted recovery, an unreliable narrator, a young woman struggling with executive dysfunction and coming to terms with what it means to be alone for the first time.

In Hope…, the author reconciles with aging, addiction, death, and platitudes as she stumbles through a madhouse of wanting and longing. She interrogates the dead, talks to moths and hummingbirds, and questions what it means to love and be loved. In a desperate attempt to unravel the tangled web of her brain, she's slowly learning that she doesn't have to exist as fragments or spare parts, and that having a tangled brain isn't the death sentence she thought it was; it's a sentence brimming with life, em-dashed with tenacity and grit.

Set against the backdrop of small towns in Ecuador, the poems in this collection are both terrified and in awe of time, so haunted by the past and present that they have only just begun to peer around the corner and imagine that a future could be possible. The poet explores how to sink her teeth into a begrudging optimism. It's not about the ultimate healing or finding the right thing to say while internal and external worlds are crumbling— it's about acknowledging the crumbling and grasping its hand to move forward into the unknown. 
Pepper Cunningham (she/her) is a writer and editor based in the mountains of Southern Ecuador. She is the Translation Editor at MAYDAY Magazine. Her work appears or is forthcoming in Split Lip, Rust + Moth, Rough Cut Press, Gnashing Teeth Publishing, Across The Margin, and elsewhere. When she's not working on her manuscript, she's usually by the river searching for beetles and butterflies and birds, breaking her own heart over and over.