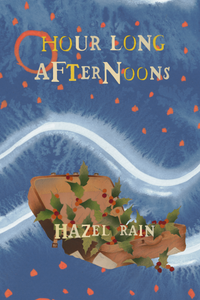 Poetry, chapbook, 40 pages, from Bottlecap Features.
hour long afternoons is a collection of poetry about interpersonal relationships, most specifically distancing oneself from a person. Although this person is gone, the idea of them is still always present. This contributes to a sense of isolation and insecurity. Many poems center around the idea of how the body is affected by the mind.

The collection starts out in a state of grief, gradually becoming more positive as it goes on. The themes begin to shift from self hatred and holding onto the idea of a person, to letting go, focusing on other people and becoming happier. The last poems bring about a feeling of hope for the future, and potential for self-love. Many of the poems are made stronger with additional photographs.
Hazel Rain is a poet and songwriter from Bellingham, Washington. She is currently studying creative writing at The Evergreen State College. hour long afternoons is her first chapbook. She has had her poems published in magazines such as Nerve, Gems, and Dear Damsels among others, and is a writer for The Luna Collective. Find her on Instagram @hazel.rain, and her EP 'I Want To Be Lovely' on Bandcamp, Spotify, iTunes and more.