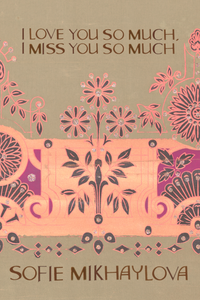 Poetry, chapbook, 28 pages, from Bottlecap Features.
This book is about being apart, being in pain, and connecting only in dreams. It's about missing hugs and gentle touches, about plotting surprises and staying up late for a chance at a conversation. It's about making, realizing, and understanding mistakes. It's about rash decisions and their undoing. It's about fixing and repairing, about travel and love, and about the peace felt in the non-time of an airplane. How easy it is to book flights and climb on them, and how terrifying it can be sometimes to get off.
I love you so much, I miss you so much was written for Sofie Mikhaylova's partner C during a period of painful long-distance love while Sofie was living in Daegu, South Korea and C stayed behind in Toronto, Canada. The title is the ongoing mantra that was echoed between them for months, to the point of nausea and annoyance. How often can you say the same thing? Will it always have the same meaning? The words, it seemed, between them, were never enough. The distance covered half the planet, and the words could only do so much. Repetition added nothing to them, not weight or strength, just added them on top of each other, stacking like frogs or layers of glue.
It is an ode to long-distance, to what love, after a long time, can still look like: Needing, eager, clawing. It can be interpreted as a warning: do you want to feel like this? Yes, they are love poems, but they are longing poems, too. When you are so far apart, sometimes this love can feel like an overwhelming crush, one that is not always reciprocated. Living 14 hours apart means delayed answers and one-sided conversations. It's constantly counting backwards. It's waking up alone for the first time in years and feeling nothing but nausea. It's resilience. It's bigger than just love. It's the crushing, but also being crushed. These poems explore the high volume feelings that clench the heart when it feels pale and drained of blood.
I love you so much, I miss you so much is for C.
Sofie (Sonja) Mikhaylova is an experimental artist and musician, DJ, writer, speaker, and listener. She is the founder of independent experimental record label Biblioteka Records. She has written about music and pop culture for Vice, Thump, Double Dot Magazine, Paste, Mixmag, and more. She organizes and facilitates workshops on experimental music production, creation, and the record label business. She writes Sonjaland, a weekly newsletter of reflections. She is driven by love, a need for exploration, and a lifelong desire to see, hear, document, and analyze. This is her first published poetry collection. Sonja can be found on Instagram at @sonja_online. She is currently on the move and has no fixed address, but might be spotted around South America this summer.