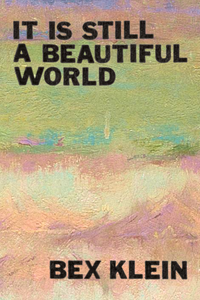 Poetry, chapbook, 16 pages, from Bottlecap Features.
This chapbook is a collection of poems about finding beauty through the heartache. It is about finding joy in simple things, and the reasons I need to work to find joy in the first place. This chapbook is my heart in written form. It is about aching and growing and becoming something new. Writing is my way of processing things, of forcing happiness into myself when it seems unattainable and coming to terms with how I really think and how I really feel. This chapbook is a testament to that.
To all who read it, whether friends or family or strangers: I hope you can find some joy in my words, some understanding, some commiseration. I hope this chapbook can encourage you to look at the world around you, the moths and the trees and the water, and know (or even more importantly, feel) that even though this world can be harsh and unforgiving, even though it sometimes doesn't seem like it, there is always beauty to be found.
Bex Klein is an artist and writer based in Chicago. Their work, both visual and written, focuses on bringing joy to themself and to the viewer and is largely about choosing joy in response to trauma and pain. They do not ignore and set aside the harder things in life, and instead respond to them by asking how they can bring a little more light into the world and a little more understanding. They aim to acknowledge trauma and pain without letting them take over.