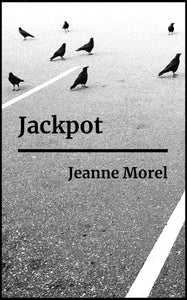 Poetry, chapbook, 29 pages, from Bottlecap Press.
"Probing the thin veil of supposed reality, this collection of poems covers the earth, turns its eye on the Columbia Gorge, then swiftly travels to Kompong Cham. "Birthday Parties are Pluperfect" exclaims one of her titles, then the poem asks, "Why did the balloon float over the fence." Morel explores the gap between words and meaning, the irony of attaching to any prevailing narrative. Everything in this collection escapes its boundaries, establishes a narrative then moves to the next bright revelation."
-Dion O'Reilly, author of Ghost Dogs

Jeanne Morel is the author of the chapbooks I See My Way to Some Partial Results (Ravenna Press) and That Crossing Is Not Automatic (Tarpaulin Sky Press). Her poem, "Loss & Other Forms of Death," was selected by Leila Chatti for the 2021 Fugue Poetry Prize. Jeanne holds an MFA from Pacific University and has been nominated for a Pushcart in both poetry and fiction. She lives in Seattle.