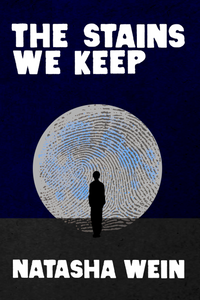 Poetry, chapbook, 60 pages, from Bottlecap Features.
The Stains We Keep by Natasha Wein exposes painful truths from childhood and rewrites them into new, more hopeful narratives. She writes from somewhere between memory and imagination, creating a call-and-response between parts of herself that have been previously severed from one another as they meet each other for the first time. Her narratives center around relationships as the catalyst for both injury and mending in order to understand the origin stories of betrayal, hurt, and neglect, as well as healing, reconstruction, and rebirth.

Vacillating between the loss in progress and the discomfort in growth, she experiments with different ways to retell memories in order to develop agency where she previously had none and grow up and out of the liminality of adolescence, specifically one that had been disturbed. Her poems are a reunion with the child-self—the self before learned shame—and a welcoming of her into adulthood. She parallels the psychological shattering and unraveling related to developmental trauma with the physical disintegration related to her Ehlers-Danlos Syndrome injuries and illnesses. Her collection also explores the limits of love, the concept of home, and the different physical and interpersonal iterations of home we try on in an effort to bear the human condition.

Her collection operates cyclically, beginning with "Birth" and ending with "Compost," mirroring the cyclical nature of life, death, and practices for raising consciousness. The stains we keep are the moments we collect unwillingly and intentionally that inform our vulnerabilities, our strengths, and how we relate to the world.
Natasha Wein (she/her) is a self-taught visual artist and poet raised in the San Francisco Bay Area now working out of Stockbridge, Massachusetts. Her writing parallels her painting process and has featured in her art exhibitions since 2017. Her work is influenced by psychodynamic theory, nature, her bicoastal and New Zealand roots, and her experience living with Ehlers-Danlos Syndrome. Her poetry appears in Another New Calligraphy, 8Poems, and Beltway Quarterly. She is a staff writer for Réapparition Journal. For more on her work, go to www.nweinart.com or follow her on instagram at @nweinart