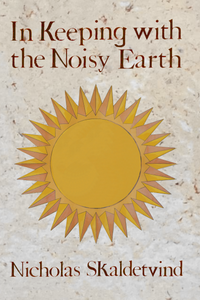 Poetry, chapbook, 56 pages, from Bottlecap Features.
"These are poems of love and travel—love for travel with its various landscapes populated by friends and strangers, lovers and lost loves. They traverse childhood and adulthood like "amoebic clouds.//Blue, inescapable blue." There is a lot of blue in this work: "a brief minute blue above the neighbors' rooftops," "dawn is a blue glass of water," "a lake of blue trees." In these far-ranging poems, Nicholas Skaldetvind writes from "the bluest water in America wide-eyed and unsure and loud." It's a collection you'll want to do more than dip a toe in; you'll want the full immersion."

—Subhaga Crystal Bacon, author of Transitory, forthcoming from BOA Editions

"Nicholas Skaldetvind's In Keeping with the Noisy Earth is perhaps most impressive in its uncanny ability to bring together innovation and affect. Unlike so many contemporary works that pursue artistic risk to the detriment of emotional resonance, Skaldetvind experiments—with syntax, musicality, and narrative convention—in a way that reminds us to approach both life and language with a sense of vulnerability. Indeed, he has created "exultant and free cathedrals" of gorgeous imagery and incredible lyricism. Nicholas Skaldetvind is an exciting and necessary voice in contemporary poetry."

—Kristina Marie Darling, author of Daylight Has Already Come & X Marks the Dress: A Registry

"With language as simple as a cracked skull, Skaldetvind shows you vistas of his travels and what his crisp nature visions provided. In Keeping with the Noisy Earth makes you feel lucky the hungry bear didn't get him."

—Kurt Hemmer, Harper College, editor of the Encyclopedia of Beat Literature
Nicholas Skaldetvind is an Italian-American poet and papermaker.