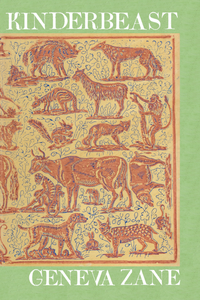 Poetry, chapbook, 36 pages, from Bottlecap Features.
Some words in Kinderbeast are fake ones. Some do not mean what they imply. Some are very artless attempts at double entendre. All were chosen carefully, and when there did not exist a word, a word was created. The collection was made slowly, after many attempts, and many exploded kilns. Some poems took years to write, and some were made in a feverish afternoon. Some came from nowhere, while others are the cannibalized remnants of journal entries, postcards, and juvenilia. Each one is something, though you can't say what, exactly. But if you stare long enough, some themes emerge: terrible children, vicious longing, clay. Loving someone so much you forget how it feels to be normal. Begging to be understood, but speaking a made-up language.
Geneva Zane received her BA in creative writing from Bard College, where she was awarded the Lockwood Prize in Creative Writing. Her novel, Stringbean and the Grace of Dog, was a finalist in the 2018 Fence Modern Prize in Prose: Literature Appropriate for Children. She has been published in PCC Inscape, The Mighty Line, The Closed Eye Open, Storm of Blue Press, The Bangalore Review, Kind Writers, The Perch, and Hanging Loose Magazine. She lives in the Chicago, under the L.