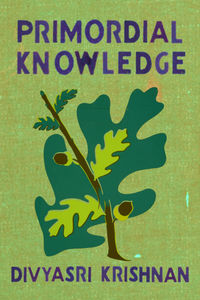 Poetry, chapbook, 40 pages, from Bottlecap Features.

PRIMORDIAL KNOWLEDGE examines the innate, the intrinsic, and the utterly primeval. Broken into three segments of flood, fire, and famine, this collection is the author's exploration of her inherited agonies: the covenant between a girl and her mother, the infection of religion, love and youth as a double-edged sword, the beast of hunger. This collection ricochets between geographies, from cityscape to haunted country to sweltering homeland. Poems shed their skin and don new forms, metamorphosing from page to page.
Apocalypse resurfaces throughout this collection, a metaphor for the violence inherent in change. Cities flood. Women starve. Destruction sheaths the world and gives birth to the new: fiery skies breaking into rubies, eyes fracturing into diamonds. Mothers give birth to daughters who give birth to song. A bloodline that extends centuries bleeds its dreams into each page, inescapable—a ghost in every poem.
Divyasri Krishnan is the author of PRIMORDIAL KNOWLEDGE (Bottlecap Press). Originally from Massachusetts, she studies at Carnegie Mellon University. Her poems and prose are published or forthcoming in Muzzle Magazine, Third Point Press, Arc Poetry, and elsewhere. She is a Best of the Net finalist, and she reads for The Adroit Journal.