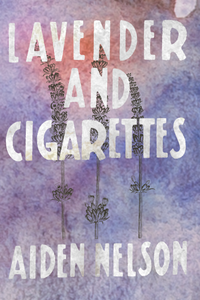 Poetry, chapbook, 40 pages, from Bottlecap Features.
Lavender & Cigarettes: poems of queer sex and yearning is a collection of poetry about love in its many forms through a queer lens. The poems explore friendship, romance, and sex, and the intersections between them. Love is complicated, growing up is complicated, finding courage in queer identity is complicated. Honest and nostalgic, Nelson writes of these complications, of the messiness of life lived boldly and with a tender heart.

Written during Nelson's final year of college, Lavender & Cigarettes is full of moments that feel definitive of a queer twenty-something's experiences. Drunken kisses at a gay bar, holding hands with friends on late night walks, the gender euphoria of a cheap strap-on – it is as much an ode to heartache and sensuality as it is a celebration of platonic intimacy and self-love.
Aiden Nelson (they/them) is a queer artist and writer, dad to a pair of rats, and a self-described scamp. A classic cancer, they fit with the water sign stereotype of having big feelings all the time. Their coffee beverage of choice is an iced Americano with vanilla. They're a contributor to PLEASER Magazine, Kindergarten Magazine, and Unpublished Magazine, and have been featured in Pile Press's 2021-2022 Winter Issue, Salon des Refuses's "Deletrius," and Grain of Salt Magazine. For more of their writing (as well as pictures of their rats!) check out their Instagram @aiden.nelson_