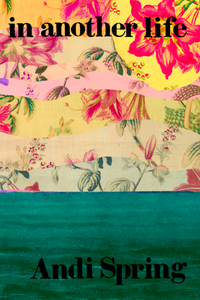 Poetry, chapbook, 28 pages, from Bottlecap Features.
writing this as rain pours down outside and thunder roars, I can't bring to mind the words to describe this work. it is a work of self, a work of deeply personal poems that bring about fear knowing they will be published for anyone to read. this collection will resonate with women-children-people-things that can't place themselves on one side of femininity or the other, lonesome dreamers who smoke too much, people a little too obsessed with their cats, girls that love their mothers but wish they were only a little different, girls that will someday become mothers whose daughters will wish they were only a little different, feminine ragers, those that particularly enjoy the movie bridesmaids, and unrequited lovers. (they'll especially like this one).

in another life takes its readers through some of the most difficult periods of my life as well as some of the best, making it an incredibly personal work that shows me–warts and all. from depressive episodes on the couch to acid-tripping with lovers, in another life examines personhood–its difficulties and its triumphs, its confusion and its certainty, its will to continue. this collection is one that will linger with you if you let it, and i hope you will.
Andi Spring is a non-traditional poet and recent college graduate. During her time in college, she served as the co-poetry editor for the school literary magazine, Kennings, and won the Aubra Jade Hiland award for creative writing. Spring's poetry focuses on themes of confused femininity, loss and longing, and turbulent self-discovery (sometimes through drug use). More importantly, Andi is a taurus sun and moon, with a libra rising. Born and raised in Louisville, Kentucky, there she resides with her devoted writing companion, her cat Midge.