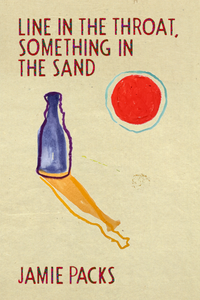 Poetry, chapbook, 32 pages, illustrated, from Bottlecap Features.
Line in the Throat, Something in the Sand is a collection of poems and images that rejects the imperialist fantasy of the individual author and asks instead asks what it might look like to write in collaboration with the world. The collection seeks to embrace collectivity, simultaneity, happenstance, contradiction, and the unconscious in place of extraction, teleology, individualism, logic, and control. The resulting poetic terrain is, perhaps, a strange one—inhabited by rubbing boulders, eyeless shrimps, fingernails, galaxies, and grapefruits. Yet here we are.

Many of the poems in the collection are derived from automatic writing exercises, devised rituals, found objects, and overheard conversations, among other sources. Ultimately, Line in the Throat, Something in the Sand suggests this: There are things about which we do not know.
Jamie Packs is a writer based in Philadelphia, PA. He received a B.A. in Literary Arts from Brown University and is currently pursuing a J.D. at the University of Pennsylvania. He keeps a dream journal.