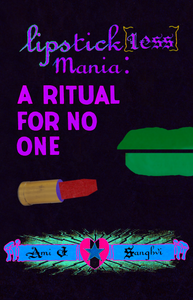 Poetry, chapbook, 28 pages, from Bottlecap Features.
Separately, the varying, clashing fragments of this book falter. Together, they become the long overdue birth of the author as a marvelous freak.

An experiment in deconstruction and thematic collaging of previously rejected pieces, unpolished drafts, bits from a priorly abandoned book of hours, and raw immediacies, Lipstick[less] Mania: A Ritual for No One seeks to explore the ways in which the author's life simultaneously occurs on and across multiple planes: the mental, the spiritual, the physical, the psychological, and the metaphysical, in addition to the artistic and the sociopolitical. It is also a celebration of newfound, passionate, queer love and a coming into non-binary gender and self — even in the midst of overwhelming anguish and trauma.

Regarding language, Lipstick[less] Mania: A Ritual for No One reflects the complicated position of the image/text/visual poet in a performance space, where what is spoken is all that is known. It tests the ability of an image/text mini-collection to manifest in a variety of ways — such that it is next to impossible to read it in an entirely identical manner more than once, and individual readers will always have unique interpretations of its natural movement. As a result, Lipstick[less] Mania perpetually folds into itself in order to ensure the intention of the image/text poet does not wither in the face of vocal expectation.

An exploration of gender, queer joy, religion, and the boundless intersections between heritage, media, marginalization, trauma, alternative art, and deeply-rooted awareness of the suffering soul, Lipstick[less] Mania: A Ritual for No One is an ancient punk prayer of both embodiment and disembodiment: an anti-capitalist conjuration born of "being" rather than "doing."
Ami J. Sanghvi (he/they) is a non-binary, Indian-American, queer author, artist, designer, boxer, Eric Hoffer Book Award finalist, and recent graduate from the California Institute of the Arts Creative Writing M.F.A. program (concentration: image/text). He is a fiction editor for Decolonial Passage, poetry editor for Wrongdoing Magazine, staff writer for Chaotic Merge, and photographer for AsianZine, as well as the co-founder and co-editor of Gutslut Press. His work has recently appeared in So It Goes: The Literary Journal of the Kurt Vonnegut Museum and Library, Inverted Syntax, Humana Obscura, I Hope You'll Still Love Me: A South Asian LGBTQIA+ Anthology, Masalazine, Zindabad Magazine, and several other publications and exhibitions. He was also a featured author for LUPERCALIApress's VULCANALIA '21 anthology. He is the winner of Really Serious Literature's Beefy Chapbook Potato-Rito Remote Residency To-Go Contest XXL, with publication of his chapbook, Baby Wraith Burrito Bones, forthcoming in 2022. Additionally, his chapbook, [in]transpiring, was published with swallow::tale press in November 2021, while his chapbook, Confessions of a Baby Vamp: Letters to John Milton was published by Gutslut Press in December 2021.