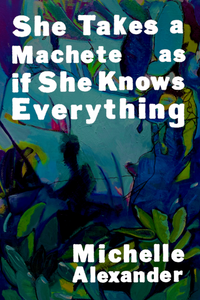 Poetry, chapbook, 32 pages, from Bottlecap Features.
She Takes a Machete    as if She Knows Everything positions itself amidst the tense and kindred stance between Blackness and Disorder. This collection's itinerary traverses figurations of Haitian rebellion, glories of Sun Ra, festoons of Caribbean descent, and the necessary reckonings of Trinidadian lore. By animating Black freedom and Disorder through lyrical narratives concerned with racial and mental difference, we encounter epic memory and its fragmentation. This encounter mythologizes historical traces and historicizes mythic inflections. 

In these poems, we find ourselves submerged where autobiographical and mythic traces blend. Where we can feel the glimmer and grind of how Blackness and Disorder ensnare and enrapture us to myth, a failed escape. Freedom risks transmogrifying into delusion, betraying that the freer one might feel, the stronger the grip of Disorder. This irony both haunts and underwrites Disorder's folkloric expression at work in this text. 

Interchanging symptoms, otherness, and ambiguities, Blackness and Disorder dance, falling in and out of evocations of one or the other. An effort of fantastical beauty.
Michelle Alexander is an American-Trinidadian poet, creative nonfiction writer, and New York University's Gallatin School of Individualized Study graduate.  She is enrolled as an MFA candidate at Columbia College of Chicago.  Her work is forthcoming in Salt Hill.