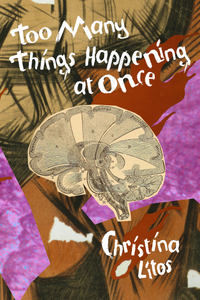 Poetry, chapbook, 36 pages, from Bottlecap Features.
Too Many Things Happening at Once is a handheld existential crisis. It's the intersection of the external chaos of the world, and internal chaos of the mind. It's an acknowledgment that life is complicated and complex and convoluted and can still be worth living.
Too Many Things Happening at Once touches on themes like anxiety, introspection, unanswered questions, and the collective helplessness that often becomes too much for us to bear. Written over a two-year period, this collection aims to bring to the forefront a sense of hope and possibility for the future through poetry and prose, amidst all the madness.
Christina Litos is a 24-year-old Greek-American poet and graduate student studying applied behavior analysis at Queens College. When she isn't jotting down poems in her notes app, she serves the Autism community as a behavior therapist and community habilitation worker. She currently resides on Long Island, New York with her family and pet guinea pig, Toffee. This is her first collection of poetry.