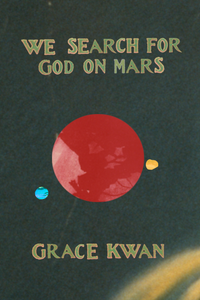 Poetry, chapbook, 32 pages, from Bottlecap Features.
Astrobiology is the ongoing search for life, and the potential for future life, in our backyard the universe. We Search For God on Mars ritualizes this search in poems about the religion of belonging, in earthly geographies and bodily ones, in cosmic vistas and landscapes of love.

A migrant narrator explores the phenomenology of memory – prayer and queer love punctuate the poetry the same way salt water and rivers unite and break up its terrains. With poems after C Pam Zhang, King James I, Sara Ahmed, and Isabella Wang, the chapbook inserts itself into spatiotemporal dialogues surrounding queerness, migration, oppression, and the sacred.
Grace Kwan is a queer Chinese-Malaysian Canadian author and scholar researching capitalist and nationalist mythologies and their relationship with art, stories, and the marginalization of Asian immigrants. Grace's debut collection of creative nonfiction stories, Prelude: & Other Stories, came out from Life Rattle Press in June 2020. Their prose and poetry have appeared in Plenitude Magazine, The Capilano Review, Necessary Fiction, antilang., Rigorous Magazine, and The Thirlby.