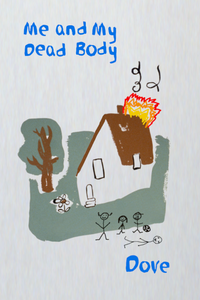 Prose, prose poetry, chapbook, 36 pages, from Bottlecap Features.
It has been said that every author writes from a singular emotion. Dove, author of Me and My Dead Body, writes incessantly about grief. Grief is a strange feeling. It doesn't lie neatly in stages- it twists and turns and cycles. Dove's therapist once said that the stages of grief are a hoax- that the journey is made up of only complicated and uncomplicated grief, and that a person moves through those two types over and over. This chapbook follows the strange shape the journey took inside the author, with poems written during the different flavors of the mourning. The grief never ends, but the taste it leaves in your mouth changes as time presses on.

Dove was mourning many things while writing these poems- from love to coming to terms with their childhood home to the ever aching process of growing up. Their writing reflects the reality that grief brings- it's gory, it's angry, and it is so, so wishful. The dead body that the author carries around is an amalgamation of pain, heavy and rotting. However, Me and My Dead Body is not meant to be an ode to suffering, and the dead body has never been meant to be carried alone.
Dove is an artist, a lover, a fighter, a dog wearing a helicopter hat, three little men in a trench coat, a little too invested in Rousseau, and an ever changing presence wearing the skin of a college student. If asked, they would tell you that the two most important aspects of their work are this: love is never easy but always worth it, and grief looks like your kitchen table and sounds like your childhood nickname. Located in Washington, vegetarian, and full of hope- they're excited to present their first collection of work to the world.