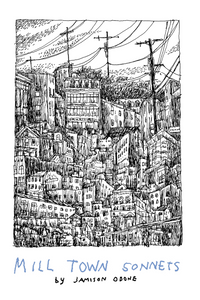 Poetry, chapbook, 36 pages, illustrated, from Bottlecap Features.
"I have spent most of my adult life writing and illustrating books that have nothing to do with poetry. As a young man, fresh out of college, I had the miraculous life experience of living in the same town and befriending legendary children's book author illustrator, Maurice Sendak. Maurice taught me to be an artist more than anybody ever has. My first efforts in books were illustrated stories for children. That shifted to graphic novels for slightly older children. Now, I find myself at yet another shift.

Poetry is nothing new for me. I have written and read it compulsively. Never have I ever had the confidence to do anything with my scribblings because foremost, I am an illustrator. I feel as though I have always been better at crafting images, over words. In 2022 I decided to take the dive. Write a quatrain every morning for a year. I failed. In July I petered out as life around me took over my thoughts. Failing is ok when you try I suppose. After my empty July I picked it back up again and wrote for another month until I reached around 200 quatrains. Some are good, some are not. I will see once I read them in 2023.

Mill Town Sonnets is my first real attempt to write about and remember my childhood. The form of a sonnet felt like just enough lines of poetry to document what I recall about the mill town I was born and spent much of my childhood in. Mill Town Sonnets is my best effort to remember the friends, family, streets, apartment buildings, smells, and sounds of Woonsocket, Rhode Island in the 1980s."

—Jamison Odone

Jamison Odone is an author, illustrator, and professor of illustration at Frostburg State University in Western Maryland. His most recent publications have been the graphic novels, My First Pandemic and The Man In The Painter's Room (Black Panel Press). Mill Town Sonnets (Bottlecap Press) is his first published book of poetry.

If Jamison gets the good fortune to live to be an old man—you will find him sitting in the woods, by a stream somewhere quiet, scribbling down poems and drawings in his notebook, and he will be happy.

Odone lives in Maryland with his wife and four sons. He loves them all dearly.