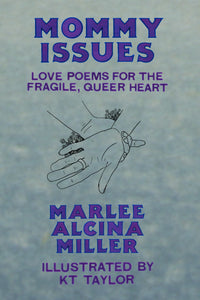 Poetry, chapbook, 36 pages, illustrated, from Bottlecap Features.
The poems in Mommy Issues; Love Poems for the Fragile, Queer Heart delve deep into the emotional intensity that surrounds the way I love– whether that love be romantic, platonic, family-oriented, or even a love for a physical space or realm. In addition, these poems explore the intersection between romantic love and mental illness, and what it means to love queerly.

"The tendency towards being obsessive about one person or relationship is common among people who have Bipolar Disorder. I'll often get this sort of tunnel vision. My mind will become fully consumed by one person. This will manifest in the way where I'm constantly fantasizing or daydreaming about a relationship with this person. Sometimes this obsession will seep into my subconscious and I'll often dream about this one person. The obsession becomes all-consuming. The fantasies start to filter into my perception of reality, which can have real implications on my real-world relationships. This obsession can at times make it difficult to form new relationships. It can also start to hinder any progress I make towards loving myself, and lead me towards breaking my own heart. The process of writing these poems have helped me parse all of this out immensely.

Yes, my love is oppressive. It's always been the loudest part of me. But loving people, places, or things as intensely as I do can also be a very beautiful thing. Something that transcends. The ways in which queer people move through this world with limitless love–despite everything–is something worth documenting. And what better way to articulate this than the language of poetry coupled with queer visual art? This chapbook is for the fragile, neurodivergent queers who love loudly in a world that wants us to be silent."
-Marlee Miller
Marlee Miller (she/they) is a queer, Black, activist, writer, puppeteer, and performer based in Brooklyn, New York. She draws inspiration for her work from love, dreams, social justice, mental illness, and the process of exploring identity. She also attributes a large part of her artistic influence to dancing with her queer chosen family, Audre Lorde, writing her signature love letters, Nikki Giovanni, and crying while sipping wine in the shower.
Marlee is a VONA (Voices of Our Nations Arts Foundation) alum. Her poetry and prose can be found in Issue 117 of Sinister Wisdom: A Multicultural Lesbian Literary & Art Journal, as well as Solstice: A Magazine of Diverse Voices' Summer 2021 issue.
Reno Taylor (they/them) is a nonbinary lesbian, an enrolled member of the Choctaw Nation of Oklahoma, and the proud owner of multiple mannequins. Their work is focused on using multiple disciplines–digital illustrations and comics, printmaking, wearable art, and zinemaking–to foster connection and expression in radical ways. When not creating, Reno talks to their cat Zelda, eats dinners with friends, and rides their bike on sunny days. You can find their work online at www.bonekid.net or on Instagram: @bonekid_.