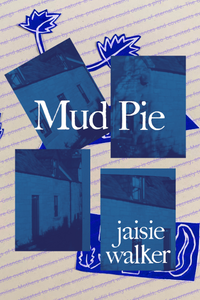 Poetry, chapbook, 24 pages, from Bottlecap Features.
In their debut poetry collection, Mud Pie, Jaisie stitches together a self-portrait of past and present centered around queerness, home, care, and reclamation. Mud Pie's thirteen poems are tethered to the highlands of Scotland, where Jaisie spent their childhood, offering a deeply personal exploration of their body, relationships, and the memories that linger on the map of their healing.

Jaisie's collection follows their rural childhood, experiences of relational and gendered violence, religious trauma, and their ongoing work to find, honor, and celebrate their voice and their worth. This collection is simultaneously a 'fuck yes,' a 'fuck you' and a 'forgive you,' holding space for intergenerational pain, survivorship, and gender liberation.

Mud Pie is for anyone embarking on a journey to love themselves and others more honestly, and to feel at home in their body. It is an invitation to wonder at our capacity to love, grieve, explore, and heal deeply.
Jaisie Walker (they/them) is a queer, non-binary poet raised in a rural coastal town in the Highlands of Scotland and living on unceded Alonguin Territory, colonially known as Ottawa. Jaisie works in the field of sexual health and violence prevention and started writing poetry in 2023. Mud Pie is their first poetry collection. Jaisie writes to transform and nurture their relationship with their body, their memories, their wounds, and their future.