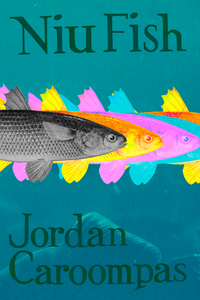 Prose, chapbook, 48 pages, from Bottlecap Features.
An unknown species of fish has appeared at the Monterey Bay aquarium. It seems harmless enough, but the aquarium's higher-ups refuse to have their reputation threatened. John Jack, the tank cleaner who discovers the fish, is put on indefinite leave as a scapegoat while the aquarium board rushes to solve the mystery of the Niu fish. Dr. Amy Niu, a successful marine biologist and the namesake of the strange creature, is put in charge of an emergency response team but can't put the pieces together alone.
Despite feverish surveillance and brainstorming, Dr. Niu and her team cannot figure out where the Niu Fish have come from. Early on in their investigation, they are faced with the additional problem of several creatures going missing from aquarium exhibits: a shark, a dolphin fish, a penguin. Out of work, John takes another approach to solving the mystery.
Niu Fish is a flash fiction cycle that unfolds day by day for 16 days. An international craze drawing record numbers of aquarium enthusiasts to Monterey, snippets of aquarium workday drama, and poignant traces of John and Amy's personal histories shed light on the bizarre Niu fish which propagate unhindered. At the aquarium, thick glass rests between the spectator and nature. Stand too close and you might be consumed by an underwater world.
Jordan Caroompas (they/them) is a writer, musician, and animator/filmmaker living in Brooklyn, NY. Language, humor, and the unexplainable/inexplicable are omni-present in Jordan's work, which is often hybrid in genre and medium. Niu Fish was a finalist for the 2021 Gold Line Press Fiction Chapbook Contest and their writing has appeared in Bright Lights Film Journal. Jordan is currently at work on their debut novel about the sculptor and the sculpted, about process and performance—the book might crumble into pieces while you're holding it.