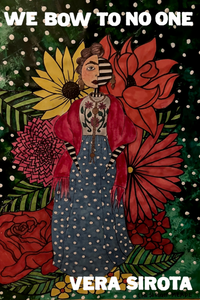 Poetry, chapbook, 32 pages, from Bottlecap Features.
In her debut poetry collection, Vera Sirota honors the invincible spirit of ordinary Ukrainians enduring a brutal war. She also pays tribute to creative women who refuse to stifle their artistic visions, even in the face of misogynistic violence.

We Bow To No One weaves the stories of strong women across time and continents – from the elderly Babtsia in Bucha, Ukraine, who ignores calls to leave her home during the Russian invasion to the world's first known poet, Enheduanna, returning triumphantly from exile in ancient Mesopotamia after her enemy's defeat to a feminist Beat poet whose erotic love poems are deemed obscene and confiscated by the San Francisco Police in 1966. Sirota sanctifies these courageous women using a variety of forms, including free verse, pantoum, ekphrastic, and contrapuntal poems:

you conjured the goddess
           Consort of heaven
and the moon sang triumphantly for you
           whose gem of rank is greatest of them all

We Bow To No One exalts the transformative force of poetry and is dedicated to creative rebels everywhere. Unflinching and packed with power, these luminous poems challenge, delight and beseech.
"Vera Sirota writes about the fearless and is equally fearless in her writing. The poem "Looking for Lenore" serves as the centerpiece of this defiant collection. She combines Ukrainian images with the culture of American poetry. Vera is a poet who can be everything at once."

–Olena Jennings, author of the poetry collection The Age of Secrets and the novel Temporary Shelter

"Vera Sirota's inaugural poetry collection We Bow to No One is a gift both of heart and fortitude. The title poem's defiant stance follows these poems around, as Sirota steadfastly seeks out beauty, grace, and indeed poetry, despite the war ravaging Ukraine, her ancestral country. Infused with regal feminine archetypes—heroic mothers, Odesan rusalkas (mermaids), the world's first poet—Sirota's steely women refuse to break their gaze . . . refuse to break ("Village Poetess"). In the title poem, she writes "Hope animates my heart, because this is a national trait." In Sirota's deft and dignified hands, I am utterly convinced of it, and utterly inspired."

–Lissa Kiernan, author of The Whispering Wall and founding director of The Poetry Barn

Vera Sirota is the proud granddaughter of Ukrainian immigrants. Vera serves as a mentor for Girls Write Now, a creative writing organization for high school girls and gender-expansive youth in NYC. Vera's poems have been featured in the Poetry Distillery, Stories by Girls Write Now, Dark Onus Lit, Armstrong Literary, Ukrainian American Poets Respond, Music of Hope: a benefit concert in support of Ukraine, and the "SHATTERED: SYMBOLIC GESTURE" exhibition. Vera is a 2022 Martha Award Finalist for the David Wade Hogue Scholarship. She is a co-founder of the West of Willow poetry and music collective in Hoboken, New Jersey.