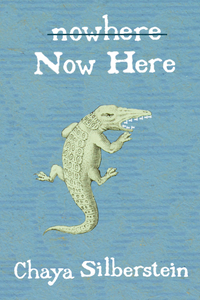 Poetry, chapbook, 44 pages, from Bottlecap Features.
Now Here explores the inner journey with an initial visit to a crocodile with the pretense of being a dentist. You think you found the key, but which door? The narrator guides the reader through inner terrain that is sometimes lonely but if visited long enough, expansion begins to happen and the magic of transformation takes place. Sometimes you think you're nowhere, but simply add space and you may find yourself touching the infinite. Now Here.

Note from the Author:

This collection is very special to me because these poems were written after I learned The Wonder Method™ (TWM), which is a yin energy healing modality that also helps you get really present. Part of the training is not getting caught in drama but rather feeling what's there and gently letting it through. As a writer, I thought, how I could I still write poetry and stories? After all, no drama.

At the advice of my teacher, I began to write while practicing TWM, while I was in an open state. My poems began to change dramatically and I was surprisingly, and not surprisingly, quite pleased with the results. My hope is that these poems lift you gently off the page and you get to experience some of the expansion and wonder that I experienced while writing this collection.
Chaya Silberstein is a professional writer and editor for 20+ years. She regularly contributes to The Pen Name, under various pseudonyms, co-published The Echo of Dreams (2012) and was featured in the anthology, Just a Little More Time (2017). She has performed poetry in various venues internationally and served "poetry cookies" at unique events (2012-2017). Chaya is a Certified Instructor and Practitioner of The Wonder Method™and Editor and Certified Practitioner of Quantum-Touch. She currently lives in Venice, CA.