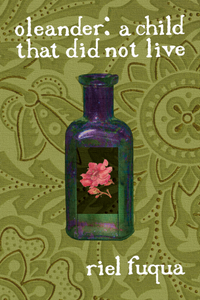 Poetry, prose, chapbook, 28 pages, from Bottlecap Features.
written over the course of several tower moments in the last decade, oleander: a child that did not live is a commemoration service for the vague, the visceral, the misaligned, and the underheard. this collection of 14 pieces, including prose, poetry, and essay, explores the ministry of noticing and resting, the intersections of both Blackness and queerness, honors Black ancestors while holding their namesakes, and digs into the discomfort of convolution. oleander: a child that did not live is a keepsake for what has been left unsaid, but a bearer of truth that does not know how to apologize for wanting to be born.
riel fuqua is a creative artist of many trades, each of them centering around the communicative art of storytelling. much of riel's work focuses on the mosaic of experiences they have had as a Black, queer person residing in the Deep South, including navigating interpersonal relationships, sentiments both big and small, childhood memories, the nostalgia for a reality before COVID-19, and the zest of Black, non-binary joy.