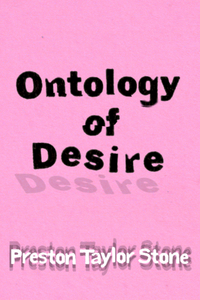 Poetry, chapbook, 24 pages, from Bottlecap Features.
Ontology of Desire is a chapbook filled with raw and unapologetically queer poems that explore the complexities of desire and the struggle for acceptance in a world that historically often refuses it.

The epigraph, "History is what hurts, it is what refuses desire" from Fredric Jameson's The Political Unconscious, sets the tone for the collection. It highlights the constant tension between societal norms and individual desires and how history has been used to enforce those norms. At a time in history when LGBT2SQ+ identity has become the subject of legal battles across the country, the collection demonstrates the fight for queer liberation has been long and often tragic.

The poems are written in a variety of forms, from sonnets to ballads, each showcasing the versatility of Stone's writing. Poems like "A Sonnet for Lincoln and the Captain" and "Reservation Requiem" explore the consequences of love that society deems inappropriate and speaks to the hardships faced by queer people in rural areas and the struggle to find acceptance in such environments. "Monk ballad," which portrays the violence and torture to which queer people have been subjected throughout history, is placed alongside "Pathogen," a triptych that brings together three historical moments of public health crisis.

Throughout the chapbook, Stone weaves together powerful images and emotions, taking the reader on a journey that is both painful and beautiful. The poems are an ode to those who have fought for acceptance and love before us and a call to action for those who continue to struggle. Ontology of Desire is a must-read for anyone interested in the future of queer poetics and the power of poetry to capture hidden histories.
Preston Taylor Stone (he/él) is an Indigiqueer ᏣᎳᎩᏱ ᏕᏣᏓᏂᎸᎩ poet and professor of mixed-blood Cherokee descent. He is Editor-in-Chief for KAIROS Literary Magazine, and his work has appeared or is forthcoming in The Moth, Eunoia Review, Flash Fiction Magazine, and Studies in American Fiction. A Ph.D. candidate at the University of Miami, he currently resides in what has been and remains the rightful home of the Tequesta and Seminole peoples.