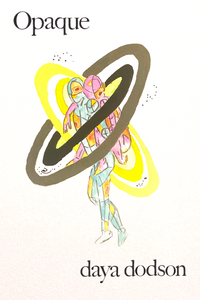 Prose, chapbook, 28 pages, from Bottlecap Features.
When our feet are planted to the ground and we are all out of strength, how do we move forward? In the wake of Lotus's untimely death, Cal is at a crossroads in his life. Everything he has ever loved feels as if it is slowly fading away. Indiana has always been his home, but he dreams of more. With a little unexpected encouragement to leave his old life behind, Cal will finally fulfill Lotus's last wish.

Daya Dodson is a writer and contemporary artist from Stone Mountain, Georgia. Daya is a self-taught artist whose mediums are writing, photography, and painting. She is a graduate of Kennesaw State University with a Bachelor of Science in Psychology and a current graduate student at Kennesaw State University pursuing a Master's degree in Social Work. Outside of her visual artwork, over the years Daya has written literary works for various zines such as Luphyr Zine, The Archive of Prospects, and Brown Sugar Literary Magazine, just to name a few. She also has a prose/poetry zine called And Here I Bare It All.