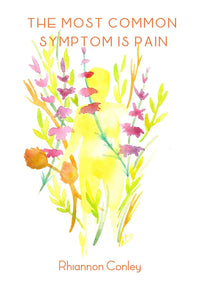 Poetry, chapbook, 52 pages, from Bottlecap Press.

Exploring partnership, motherhood and depression through the natural world, domesticity, the tarot and the zodiac, the poems in The Most Common Symptom is Pain are "A kind of cartography/and just as redundant." They about working against one's lesser natures, about working your ass off for love, about working for magic, about "trying to let canyons/be canyons."
The most common symptom of growth is pain, and it "requires failing, just like sex/and sewing and math do, too." The first step is simply acknowledgement. These poems are not about escapism; they are about noticing, existing inside of what ails you. In this book, "Someone is looking in this mirror,/ searching the dark."
Through darkness, The Most Common Symptom is Pain seeks balance, knowledge of the self, and a best practice, a type of maintenance for a life that's worth living: "you will know how to name the sea, the sky, the stars, and you will know what to do with them." These poems are aching, but they are reaching; they are dishwater and dust and sunlight on a scrappy little garden. They are asking for a way to change. They are a secret discourse reminding you that "The trick to seeing a unicorn is forgiveness."

"In The Most Common Symptom is Pain, Rhiannon Conley explores the magic in menial tasks. These poems peel back the surface of domestic bliss to see what's crawling underneath—self-doubt, an endless list of tasks, a powerful but undefined yearning, and tender, devoted love. The whole book is rich with imagery, thoughtfully examining the monotony (and sometimes joy, and sometimes loneliness) of "women's work" while often only moving from kitchen to bedroom and back. But this small physical space is imbued with meaning, elevating playtime or cleaning the bathroom to a moment of philosophical revelation. In a clear, conversational tone, Conley lays out the learning curve of motherhood: "love is practice," she writes, "and I am becoming quite good.""

-Robyn Campbell, Philadelphia-based poet and Editor of Semiperfect Press

"In Rhiannon Conley's latest poetry collection, The Most Common Symptom Is Pain, we don't learn for what malady or illness this pain is a symptom. Rather, we approach possibilities---possibilities that the speaker of these poems examines as she considers what, if anything, is wrong. These poems take us in and out of suffering---anxiety, ups and downs, caring for a child, being in a relationship---as well as the joy of the quotidian---regarding a nearby river, mending socks, noticing the stars. And in this, her work reminds us of the familiar and brings us to an understanding that we might not ever know what causes pain."

- Nancy Devine, author of The Dreamed (Finishing Line Press 2016) and Dogma (Finishing Line Press 2019).
Rhiannon Conley is a lecturer at the University of North Dakota where she teaches composition and creative writing. She is also an artist, a tender of dogs and children, a hobby chef and an avid thrift shopper. She is a new gardener and would love to hear your tips for growing perennial lavender in a Zone 7 climate.

Rhiannon has been writing since childhood. Her work has been published in numerous print and online publications, including her first chapbook, Less Precious, published in 2017 by Semiperfect Press. Her work can be found at www.admidas.net.