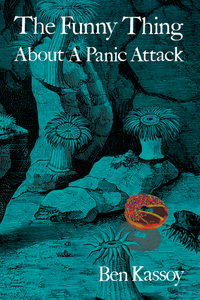 Poetry, chapbook, 28 pages, from Bottlecap Features.
What is the funny thing about a panic attack? Is it that you think you're dying? Is it that you actually live?

Is it that, afterwards, it's 2:00 am and you're in your living room surrounded by three giant gorgeous paramedics, who look like April, May, and June on next year's calendar, and since your heart didn't actually stop, they won't be needing that gurney after all?

Yes, maybe that's the funny thing! Or maybe you just need something – anything – about this to be funny.

With his signature style and singular voice, award-winning writer Ben Kassoy invites readers into his darkest chapters, deepest relationships, and wildest dreams – the spectacularly original world of his debut poetry chapbook, The Funny Thing About A Panic Attack.

Brimming with humor, heart, and defiant wonder in the face of depression, anxiety, and grief, these poems explore how one man unleashes the transcendent power of imagination and love to create a life that's bigger, fuller, and more possible – and how all of us can, too.
Ben Kassoy (he/him) is a strawberry spinning like a dreidel. His poetry has appeared or is forthcoming in Sky Island Journal, JMWW, Ghost City Review, Human Parts, Defunct Magazine, 805 Lit, Pithead Chapel, Cobra Milk, Unbroken Journal, Sidereal Magazine, and One Sentence Poems. Find Ben online @bkassoy or www.benkassoy.com, and subscribe to his newsletter at benkassoy.substack.com.