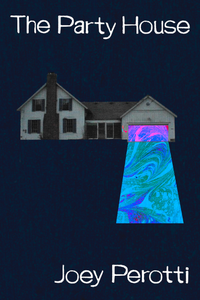 Prose, chapbook, 20 pages, from Bottlecap Features.
Two best friends full of heartbreak in a city of weird. What could go wrong? When Sid comes to visit after a recent breakup, Henry takes him out on the town, determined to help his friend get over the ex. Sid is reluctant to go out, to drink, to talk to girls. But when the boys stumble upon a neon-lit party house, Sid slowly begins to come out of his shell.

A night in the most eccentric city on earth provides the perfect backdrop for the boys on their journey of friendship, heartache, and apathy.
Joey Perotti is a video producer and writer, with a background in marketing and teaching. He has produced many short documentaries and his screenplays have won numerous awards from various film festivals. On rainy days you can find him hunched over his typewriter with the record player on. Joey lives with his dog, Marty Scorsese, in San Francisco, California.