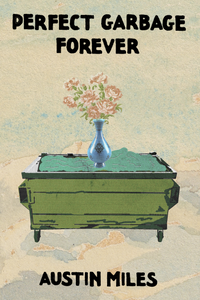 Poetry, chapbook, 20 pages, from Bottlecap Features.
Perfect Garbage Forever is an emanation from a central Ohio alleyway, or maybe a fragment of its asphalt. Its diptychs and triptychs are made of garbage scrounged up from everyday life, forming a record of forgettable moments encountered in a forgettable city, cryogenically frozen into the text. Or landfilled. The imposition of landfilling on these moments of everyday garbage is the imposition of a structure of derangement. In the moment, life flows by coherently, but the landfill record disorganizes life and produces an everyday that is incoherent, inassimilable, indigestible.

This exercise in landfill poetics is an attempt to participate in the various modes of writing towards an elsewhere. It is, in the words of the folklorist Danielle Roehmer, "a marginal practice and a practice of marginality."
Austin Miles is from the Hocking River watershed, Athens Township, in southeast Ohio. He has poems published in Sip Cup, Tyger Quarterly, Clade Song, and elsewhere.