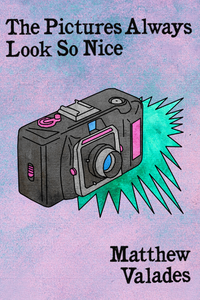 Poetry, chapbook, 32 pages, from Bottlecap Features.
The Pictures Always Look So Nice flickers with scenarios and characters from the history of film, music, and television. Thelma and Louise return for a sequel. Kanye West contemplates the Unabomber. Judy Garland and Michigan J. Frog wink their way into Hollywood. Goldilocks makes porridge on Food Network. Parallels between Back to the Future II and T.S. Eliot's Burnt Norton merge into a vivid retelling.

With appearances by singers, actors, and cartoons, these poems rework the famous and fabled into a charming puzzlement. A poetry of seeing and being seen emerges from pop culture, that common repository of the weird, everyday dreams we grow up with and wander through all our lives.
Matthew Valades's poetry has appeared in journals in the US, UK, and Ireland including The Moth, New Welsh Review, The Pomegranate London, South Carolina Review, Subtropics, and New Ohio Review. His book reviews have appeared in PN Review and Quarterly West. A graduate of the MFA writing program at the University of North Carolina – Greensboro, he works in acquisitions at the MIT Press and lives in Florida.