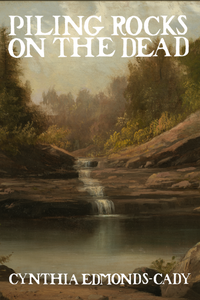 Prose, poetry, chapbook, 48 pages, from Bottlecap Features.
This is a story of survival, and a story of healing from trauma. It is a story of finding comfort in the wilderness, in wild things, and deep water. Follow the Selkie woman as she searches the woods and waters of her wilderness past to find her stolen sealskin, which was taken from her years ago in a fit of violence and rage. Her search for her sealskin takes us through dark memories and conversations with the dead who refuse to stay buried, no matter how many rocks are piled on their grave. It is a search for her true skin, her authentic self. As she journeys through the past, the nest she once hid inside of must be destroyed so that she can build a new one to properly fit her sealskin once she finds it, her real skin, her true skin.

Through flashbacks, poetry, and vivid imagery steeped in the deep cold lake water and tall pines of a Northern wilderness, and the screaming open prairies of the Midwest, this is a tale of becoming who you really are. A tale of looking backwards, running alongside the deer in the forest, and then swimming through dark, deep, choppy waters to find what was stolen from you. It is a tale of healing from abuse by touching the wild. Follow along if you like fairy tales, magic, and aren't afraid to swim.
Cynthia Edmonds-Cady is an Associate Professor of Social Work at Illinois State University, where she teaches courses on practice with families, groups, and communities. Her scholarship and creative writing focus on healing from trauma by connecting more closely with the natural world. She also owns Shady Grove Farm, a sheep and wellness farm in Central Illinois where she spends her time as a Shepherdess and a primitive weaver of wool, stories, and a little bit of magic.