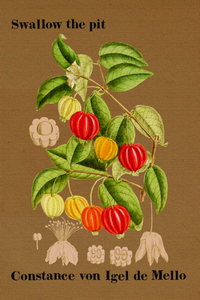 Poetry, chapbook, 40 pages, from Bottlecap Features.
Swallow the pit is interrogating borders. What determines the belonging and the non-belonging, the country lines we dogmatize? And further, down the line, at the end – who determines the line between what it is to live, and what it means to die?

The collection opens and closes with mediations on grief, walking us through the anxiety of loss in all of its facets, from identity to homeland to language to mother. And in its meandering middle, it teaches us the processes of loss through a lens that mixes anger with understanding, sadness with resignation, happiness with concern. The imperfection of the in-betweenness walks us through geography classes and through visa interviews, through the passage of summer into fall and all the way back to how sound and smell determine memory. 
Constance Mello (she/her) is a Brazilian writer living in California. Her work has been published or is forthcoming in The Ilanot Review, Brave Voices, Latinx Lit Mag, The Literary Canteen, The Bitchin' Kitsch, Sonora Review, bullshit lit, and elsewhere. She's trying hard to turn all the sad things in her life into beautiful things.