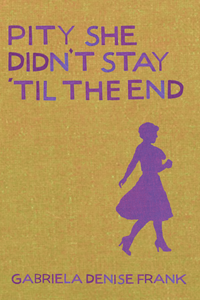 Prose, chapbook, 36 pages, from Bottlecap Features.
A remote island cabin. The back seat of a vintage convertible Mustang. A theme park with the tallest, fastest roller coaster in the world. An octopus tank at an aquarium. The Washington coast after a bomb cyclone. This collection of micro prose by Gabriela Denise Frank is a mix of the real, the unreal, and the surreal.

Frank's stories and essays are linked by women who disappear or transform—sometimes to assert selfhood, sometimes in pursuit of (or by) love. Each piece contains a facet of the author's search to understand her mother, who died when Frank was a teenager. Her mother's disappearance from life, decades before Frank could imagine what her adult self would long to know, propels the collection's quests, and questions.

"Now that I've outlived her, I see nuance in my mother's choices," Frank says. "As a kid, I was frustrated that she stayed in a bad marriage until she became sick, then died, then left me there alone. At the time, my questions were blunt: why didn't you leave? and why didn't you stay? A person's dreams and compromises ossify with time; the architecture of our lives becomes both brittle and inescapable. These pieces are attempts to bust open protective structures: the sacristy, the scaffolding, the ribcage."
Gabriela Denise Frank is an Italian American literary artist whose work expands from the page into the sonic, the visual, and the physical. A Jack Straw Writer and alumna of Artist Trust's EDGE Development Program for literary artists, her writing has appeared in True Story, HAD, Poetry Northwest, Hunger Mountain, Bayou, Baltimore Review, The Normal School, The Rumpus, and elsewhere. Off the page, her installations and performances transform storytelling into experience. In Seattle's Central Library, she staged "A Novel Performance," a month-long performance installation in which she wrote a novel as the public watched—live. In the New Media Gallery at Jack Straw Cultural Center, she installed "UGLY ME," a multi-media spoken word exhibition that explored beauty and self-worth through the medium of the selfie. Gabriela's work is supported by 4Culture, Centrum, the Civita Institute, Invoking the Pause, Jack Straw, Mineral School, Vermont Studio Center, and Willapa Bay Artist in Residence. www.gabrieladenisefrank.com