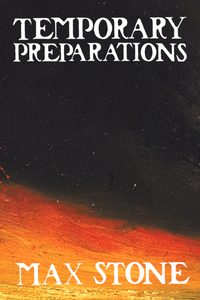 Poetry, chapbook, 28 pages, from Bottlecap Features.
Temporary Preparations grapples with tensions and anxieties that are both in the internal landscape of the speaker and in the outside world. The speaker walks on a narrow path through an unstable world that could easily teeter from relative safety into danger and chaos at any moment. Threats of violence and environmental catastrophe crackle in the periphery. These sprawling poems investigate issues like masculinity, disconnection and reconnection with family, mental illness, the heartache of realizing someone is not who you thought they were, and contradictions—like being a pacifist but having a list of people you want to punch in the face, "just in case."

The speaker journeys through the polluted urban landscape of the anthropocene as the seasons change, or resist change; "Too-hot October." The speaker attempts to find some sort of clarity and grounding by noticing things in the physical world such as a dilapidated fence post, a beef jerky wrapper, or a vandalized campaign sign. The fragmented pieces create a composite picture of the world around the speaker and the turmoil inside their head. Overheard lines, specific imagery, and recurring motifs like fire are used to capture the precarity and strangeness of our time.
Max Stone is a poet from Reno, Nevada. He has an MFA in poetry and a BA in English with a minor in Book Arts and Publication from the University of Nevada, Reno. He was born and raised in Reno, but has lived in various other places, including New York City, where he played soccer at Queens College. Max is passionate about building the literary community in Reno, he frequently organizes poetry readings in town and worked with Nevada Humanities to plan the 2022 Literary Crawl. His chapbook, The Bisexual Lighting Makes Everyone Beautiful, is forthcoming with Ghost City Press, Summer 2023. His writing has appeared in & Change, fifth wheel press, Bender Zine, Night Coffee Lit, Black Moon Magazine, Caustic Frolic, Sandpiper, and elsewhere.