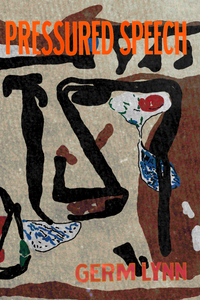 Poetry, chapbook, 28 pages, from Bottlecap Features.
PRESSURED SPEECH is a collection of poems driving toward the phenomenon of utterance. Both confessional and abject, the chapbook peers into the poet's experiences navigating a bipolar diagnosis and episodes of psychosis while winding its way through experimental forms and processes to arrive at unexpected, albeit raw, moments of grace.
The work vacillates between the meditative and the obsessive, rumination and contemplation. Some poems were generated from erasure, troubling the notion of authorship. Using a fountain pen, the poet "blacks out" their diagnosis in the DSM. Using sickly yellow tape, the poet "papers over" the body of text selected from The Yellow Wallpaper. The poem is not written, the poem survives. The poem speaks.
The poet at once embraces experimental forms but quickly abandons them. There is a playfulness that speaks to wild abandon, but there is also a smoky introspection lurking within the text's reflective passages. The voice behind this work becomes harried, cyclical, urgent. Musical cues are utilized throughout the text suggesting some internal logic, some interior experience that can be sensed but not voiced, at least not coherently.
Borrowing the title PRESSURED SPEECH from the diagnostic and clinical language of psychiatry, the poet reclaims the term for ecstatic speech. The unfettered use of exclamation points, the dizzying devotion, the slurring of words into other words, this book of poetry lives LOUD and places the lived experience of speech on its phenomenological altar.
germ lynn is a writer and cellist from Florida exploring haunted machinery and neuroqueer phenomenology. Their work has been published in the queer short story collection Spaces We Have Known and their science fiction chapbook What You Call was published by Radix Media. Their poetry can be found in Butter Press, Bent Book and Rendering Unconscious: Psychoanalytic Perspectives, Politics, and Poetry (Trapart Books).