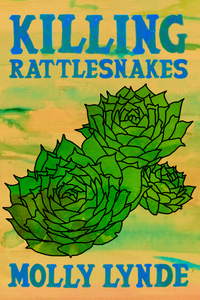 Poetry, chapbook, 32 pages, from Bottlecap Features.
Killing Rattlesnakes is a portrait of endurance and continuity, a kaleidoscope of images and anecdotes drawn from the lives of real grandmothers, mothers, aunts, and a long-ago cousin. It reminds us that traces of our predecessors reside in us and give us strength. Each of us bears the mark of someone's gift, someone's sacrifice, someone's yearning, someone's instinctive action, someone's gut claim to life. We are part of a larger story.

The women described in these poems bequeath the work of their hands, their love of being behind the wheel, and their chromosomal errors. They sacrifice and they don't. They have a need to move to the big city and to drive barefoot. Their faces speak silently to us from hundred-year-old photographs, telling us that they are somehow still here.

Killing Rattlesnakes is a tribute to foremothers, starting with a namesake and expanding to others. It explores past-present connections that create identity and belonging.
Molly Lynde lives in Kalamazoo, Michigan. Her poetry appears in Heron Tree, Rue Scribe, Stone Poetry Quarterly, and Stonecrop, among other journals. She co-founded and served as editor-in-chief of Transference, a literary journal featuring poetry in translation, from 2012 to 2020. Read Transference at https://scholarworks.wmich.edu/transference/