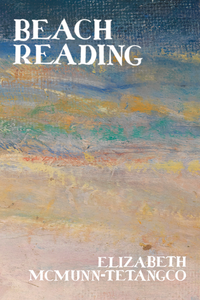 Poetry, chapbook, 20 pages, from Bottlecap Features.
Water draws many people and invites us to ask questions and explore possibilities. This chapbook is an exploration of water: rainwater, ocean water, floodwaters, etc, in addition to the waters that make up human bodies. Written mainly after floods devastated areas close to where the author lives in California's Central Valley, these poems are questions rather than a thesis. Many of the poems here are short, reflecting the ephemeral nature of many kinds of water.

In addition, there is a focus here on the body and how it contains, reflects, and responds to the water around it and within it. Like the water in our bodies we are constantly shifting, moving, and changing form as we adapt to new circumstances and new ways of being.
Elizabeth McMunn-Tetangco lives in California's Central Valley, and works as a librarian at UC Merced. She has published four other chapbooks in various formats, both online and in print – these are Various Lies, Water Weight, Lion Hunt, and The Empty Clock. In addition, her work has appeared in numerous print and online journals.