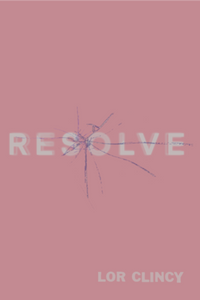 Poetry, prose, chapbook, 20 pages, from Bottlecap Features.
RESOLVE serves as a small collection of poetry that processes grief. In this collection, Lor processes her mother dying, miscarriage, postpartum depression, and the multiple myriads of loss. RESOLVE is a coming-of-age story from being a child and then being forced to grow up quickly because of life and gendered pressure of being a Black girl in a world scrutinizing everything from skin to hair and having to carry the suffering in her body. This processing occurs in stages. Lor utilizes various stylistic choices to highlight the experience: lineated spacing, blacked out text, and widened margins. Because grief impacts memory, the physical body, and emotions, these poems accent those intentions visually and within every line of each poem. 

Lor has developed a style over the course of her writing career, taking elements of craft and lineation that creates resonating prose. Some poems are short, and some are long. Depending on the content, the lines differ. A poem tackling grief looks very different from a poem expressing joy. Both have a different relationship with the page. In writing about her life and unique experiences, Lor has grown to be empowered. That allows her to share very salient, personal accounts in a clear tone. Inspired by James Cagney's introduction in his collection Martian: the Saint of Loneliness, Lor desires to "let go with passion and purpose". RESOLVE is written to be a visual and linguistic representation of letting go. For her it is freeing. Once on the page, it is out of the mind and body.
A Chicago native, Lor orients her work in all things real and raw. She references her upbringing, exploring the layers of her life in contained transparency, often wondering what she can process next. These poems are a testament of a past, present, and future she prays to live and see. Her work, as a teen, was published at Syracuse University through a summer creative writing program, and The Chicago Beat. Her recent work will appear in Allium: A Journal of Poetry and Prose later this year. Currently, Lor is a MFA student in the Creative Writing program at Columbia College Chicago.