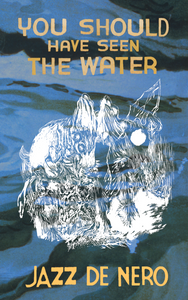 Poetry, chapbook, 44 pages, from Bottlecap Features.
Are you running to find or hide from yourself?

You Should Have Seen The Water explores healing through an examination of the natural world. Shadows and swamp creatures beckon you to name your pain, make a shrine for its spirit, & then burn it down. The sea steams you like a dumpling and your answering machine overflows with worried messages from your mother. This is a landscape where love blooms into flesh wounds before bruising over into a sickly mushroom yellow.

This collection reasons with and redefines how to mend. It begs the question - How to fill an absence? With seed or bone?
Jazz De Nero lived in the future for many years where she taught English as a second language on an island south of mainland Korea. She is a visual artist, a filmmaker and a tightrope walker. Her work can be found in Voicemail Poems, Cosmonauts Avenue, Perhappened Mag, Queen Mob's Teahouse, among others. She was a finalist for the 2019 Write Bloody Book Publishing Contest. She resides in Buffalo, NY with her partner and fifty plant children.