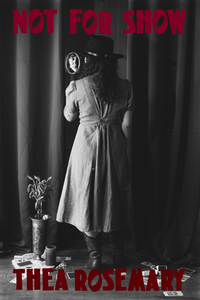 Prose, chapbook, 44 pages, from Bottlecap Features.
Not for Show is a lyrical presentation of coming into the feminine self and finding harmony with the individualistic soul. In a scope of boundless expectations and contradicting narratives, where does the feminine discover who they truly are? Through the painful, yet liberating acknowledgement of abandonment, emotional ignorance, and repetition of dizzying patterns, one can cut the strings of inauthenticity and live simply by the means of being. Of taking the next breath, and knowing that is enough.
Told through a series of short essays mingled with prose, and a fringe of fictional short stories in the theme of circus shows and scripted television, Not for Show is a personal and observance of anger and heartbreak in uncovering the layers of being feminine, no matter one's personal identity. To search and reflect patiently, only to discover there is no singular way of being, and rather, a careful unearthing of the tender human essence that exists within us all.
It is then that our performance ends.

Since the age of sixteen, Thea has been crafting various tales of fiction. She then began creating poetry and zines (mini magazines) in college, publishing two independent works and earning a spot in the college's creative arts journal two years in a row. Shortly before moving to Los Angeles from the South Bay, Thea designed and self-published The Los Angeles Gardening Guide, a book of poetry, selling 100 copies within the first three months. Thea continues to write in her little Los Angeles cottage, with her garden she adores, and too many cups of tea. She enjoys weaving tales, both fictional and non-fictional, to grant others a safe haven to simply exist.