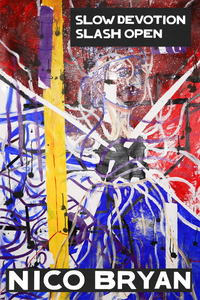 Poetry, chapbook, 20 pages, from Bottlecap Features.
"Slow Devotion Slash Open is a 21st-century software update on Gertrude Stein's Tender Buttons. Devotionally capturing all of the joy and play of Stein's text while remaining true to her own voice, Nico Bryan has created a unique capsule within this short book: "there is no middle / but at the center / it is lamentable, curious even." Slow Devotion Slash Open reimagines the modernist experiment in language in a way that speaks to our current concerns—concerns over thinking, eating, moral and political positions, and the situation of always being saddled in too much language."

—Ben Fama, author of If I Close My Eyes
Meaning: does it exist even when we intend for it not to? Can meaning be derived from language as experimentational material? As Gertrude Stein says in Tender Buttons, "In the morning there is meaning, in the evening there is feeling." How can an absurdist text written to be devoid of meaning give the reader such a blatant and direct platitude? Slow Devotion Slash Open engages the space these questions open up.
Slow Devotion Slash Open, Nico Bryan's debut chapbook, carries on this conversation with Stein using text from Tender Buttons to construct meaning. As the poems progress, so does Bryan's escalations in language, moving from direct play with source material to using the Cubist methodology to construct original poems.
The scholar Marjorie Perloff described Tender Buttons in an essay as a work that, "does not give us an image, however fractured, of a carafe on a table; rather. she forces us to reconsider how language actually constructs the world we know." And this is the gesture with which Nico Bryan built each poem in her own work.
Nico Bryan is a writer and poet from sun-shiny Florida currently residing in New York City. Her most recent work has been anthologized and featured in Fifth Wheel Press, Iterant, Bullshit Lit, and Burrow Press. Sometimes she curates and hosts poetry readings for Club Wonder at Mood Ring.