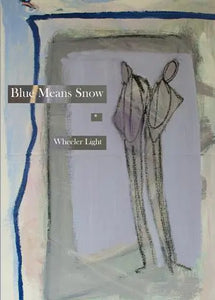 Poetry, paperback, 61 pages, from Bottlecap Press.
Wheeler Light's first book of poetry, Blue Means Snow, is a kaleidoscopic exploration of codependency and polyamory. This is what it's like to not know how to stop a break-up from continuing, the end of a relationship perpetuating itself—to meet your ex for coffee even though you know you shouldn't be.
"Wheeler Light interrogates the snow, the ice, the frost which grows between two bodies. 'After being cold for so long one becomes numb,' and then what? Light uses poetry to keep winter, to freeze it, to hold it in place. 'You love my glove but not my hand." This text works to define, to navigate, and to confront the tundra of being in love (and of falling out). It works to extend. It works to exhaust. To define so tenderly the compilation of snowflakes, and the unsettling feeling when one sees its eventual shape."
-Shy Watson
"Wheeler Light is a wholly original new voice in American poetry. In Blue Means Snow he invents a unique form interweaving lyric narrative with adventurously personal dictionary definitions, and suffuses his pages with so much urgency and experience, the book becomes breathtaking. Open your door to this blizzard, let it leave a toothbrush in your house. You will be permanently enriched by the experience."
-Anton Yakovlev, author of Ordinary Impalers
"In Blue Means Snow, Wheeler Light gives the reader 'an excuse to play in the snow, childlike; to play with words' alongside the speaker. The poem is an ars poetica inside a snowglobe that's actually a microcosm of a relationship. Light layers this reflective world with an honesty as blinding as the sun's winter glare--captivating and at times painful--but 'truly beautiful, truly really beautiful.'"
-Kelly Lorraine Andrews, author of My Body is a Poem I Can't Stop Writing
Wheeler Light lives in Boulder, Colorado, where he writes and leads poetry workshops for Art From Ashes. A Pushcart Prize nominee and recipient of the Difficult Fruit Poetry Prize, he strives to create poetry in which trauma and healing can exist together. Light was a member of the 2017 Mercury Cafe National Poetry Slam team and has featured at open mics across the country.