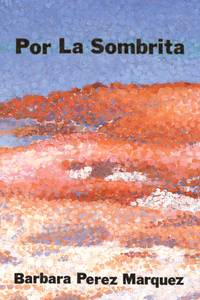 Prose, chapbook, 32 pages, from Bottlecap Features.
How do you process the parts of yourself that weren't allowed to be? In Por La Sombrita, explore a coming of age through fractured glimpses that form a whole and an imperfect family life yearning for connection. Using a combination of written pieces and companion photographs, this chapbook explores a childhood in the Dominican Republic while being queer, and the moments that form an individual.

Disjointed and at points bittersweet, pushing the stream-of-consciousness to its limit. Find the pieces to build a window into the things that connect us beyond our personal lived experiences. The line of the comfortable and the uncomfortable blurs in order to show lived experiences, not as a perfect recollection but as an imperfect segment of a larger whole.
Barbara Perez Marquez was born and raised in the Dominican Republic, now she lives in the USA. She's a queer latine writer with an MFA in Creative Writing and writes short stories and fiction. During her career, she has also been an editor, translator, and even a sensitivity reader for several publications and projects. Her work was first featured in a student collection in the 7th grade, which inspired her desire to become a writer. In her work, Barbara aims to present coming of age and LGBTQ+ themes in both approachable and heartbreaking ways. You can find more of her work at www.mustachebabs.com

//
¿Como procesas las partes de ti que no podían ser? En Por La Sombrita, explora una era de crecimiento mediante destellos fracturados que forman un todo y una vida familiar imperfecta anhelando por conexión. Usando una combinación de piezas escritas y fotografías acompañantes, este chapbook explora una niñez en República Dominicana siendo queer, y los momentos que forman a un individuo.

Desarticulado y en momentos agridulce, empuja los límites del monólogo interior. Encuentra las piezas para construir una ventana a las cosas que nos conectan más allá de nuestras experiencias vividas personales. La línea de lo cómodo y lo incómodo se difuminan para mostrarte experiencias vividas, no como una recolección perfecta sino como un segmento imperfecto de un completo mayor.

Barbara Perez Marquez nació y creció en la República Dominicana, y ahora vive en los Estados Unidos. Ella es una escritora queer y latine con un MFA en Escritura Creativa y escribe cuentos cortos y ficción. Durante su carrera, también ha sido editora, traductora, e incluso lectora de sensitividad para varios proyectos y publicaciones. Su trabajo apareció por primera vez en una colección estudiantil en el 7mo grado, lo que inspiró su deseo de volverse escritora. En su escritura, Barbara busca presentar temas de adolescencia y LGBTQ+ de maneras accesibles y a veces angustiosas. Puedes encontrar mas sobre sus trabajos en www.mustachebabs.com