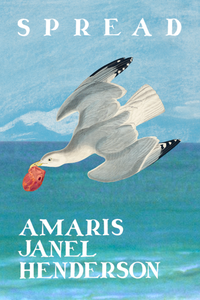 Poetry, chapbook, 44 pages, from Bottlecap Features.
Spread your wings, your fire, your tales from the dead. Spread is a collection of love letters – love letters to boredom, to self, to culture, to new lands, to heritage – that recounts a romance during the end of a world and the beginning of a new one.

Anchored in the Chihuahuan desert of El Paso, Texas, and the Coromandel Peninsula of Aotearoa New Zealand, these poems explore what it means to open oneself out to the universe during a period of chaos and isolation.

There will be trials. There will be blood.

But most of all, life will spread.
Henderson is a storyteller focused on the beautiful and the bizarre. The poet and singer-songwriter grew up in El Paso, Texas, before relocating to Nashville, Tennessee. She is a Cornell University alumna and former student of the University of Auckland's English 343: Writing Poetry course. When she is not busy creating, Amaris enjoys exploring museums, watching strange indie films, and finding the best lemonade in town with her Kiwi husband Luke.