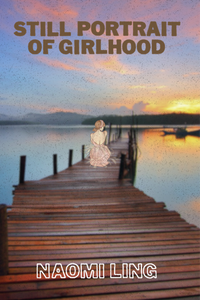 Poetry, chapbook, 32 pages, from Bottlecap Features.
Still portrait (n.): a freeze-frame in a moment, yet to become a memory. Poet Naomi Ling's Still Portrait of Girlhood meditates on heritage and healing, on interwoven identities, on girlhood and growing pains: "I wanted to catch the world breathless / a half-silvered koi passing / right through my palms." Each piece unravels quietly to form a tapestry of humanity. Aiming to preserve the modern diasporic narrative, these poems do not strive to be polished—but rather raw and unapologetic.

Like every teenager on the cusp of womanhood, the speaker in Still Portrait of Girlhood interrogates their deepest, haunting desires: "How liberating, the feeling / of loving someone's son with no seatbelt on." From first Drivers Ed lessons to modern day school lockdowns, each scene tells of survival—as poignant and personal as a family photocard. Ling's speaker also confronts the whitewashed narratives that erase Asian American culture, asking "Why retell a story if it's the same goddamn / story?" This rapturous collection begs to be heard in total stillness: the moments between dusk and dawn where no one else will listen.
Naomi Ling is a Chinese American student on the East Coast who believes strongly in the power of storytelling for change. A 2023 YoungArts Finalist in Poetry and winner of the Patricia Grodd Poetry Prize, she has been recognized by the National Student Poets Program, Scholastic Art & Writing Awards, and Best of the Net, among others. If there was one dream she could make true, it would be to ride along the French countryside with a baguette under her arm.