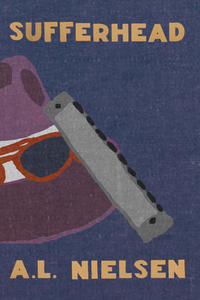 Poetry, chapbook, 44 pages, from Bottlecap Features.
Sufferhead derives its title from the "Original Sufferhead," Fela Anikulapo Kuti, and a recording made with his Egypt 80 band.  "…We sleep inside dustbins, we sleep under bridges… we must be crazy in the head," sang Fela on that album. In that spirit, Nielsen finds lyric hope in the midst of roiling forces unleashed by politics and pandemic. Marked by the humor, irony and musicality that have been evident from Nielsen's first works on, Sufferhead is at play in the lands of language.

Written from the steps of the nation's Capitol or from the steep hills of pre-covid Wuhan, these poems range freely over the sights and sounds of our world. Appearing in walk-on roles are poets Robert Bly and Gil Scott-Heron, singers Sarah Vaughan and Marian Anderson, and a host of walkers in the cities. Nielsen's springing meters and out rhymes sing small songs of our times.
A.L. Nielsen was the first winner of the Larry Neal Award for poetry, and has subsequently been honored with the Darwin Turner Award, the Kayden Prize, the Josephine Miles Award, a Gertrude Stein Award and others. Born in Nebraska, raised in Washington D.C. and Arlington, he currently divides his time between Pennsylvania and California. Previous volumes of poetry include Heat Strings, Evacuation Routes, VEXT, Stepping Razor, Mixage, Mantic Semantic, A Brand New Beggar, Tray, You Didn't Hear This from Me and Back Pages: Selected Poems. Works of scholarship and criticism include Reading Race, Writing between the Lines, C.L.R. James: A Critical Introduction, Black Chant and The Inside Songs of Amiri Baraka. Nielsen has taught at The George Washington University, Howard University, San Jose State University, UCLA, Loyola Marymount University and Central China Normal University. He currently serves as the George and Barbara Kelly Professor of American Literature at the Pennsylvania State University. He is the co-editor of The Collected Poems of Lorenzo Thomas, Every Goodbye Ain't Gone, and What I Say, and edited the volume Reading Race in American Poetry: An Area of Act.