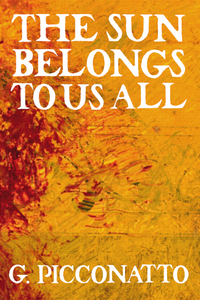 Poetry, chapbook, 20 pages, from Bottlecap Features.
The Sun Belongs to Us All is a collection of poetry navigating the frustrations of identity. It is an exploration in trying to understand what acceptance is. The poems express the hardship of dissecting one's gender, especially in a cultural climate that does not always give one room to explore.

Picconatto teeters between expressing their love for queer culture and connecting to the world around us and the anger that can come with living. They do this by discussing body image, nature, and autonomy. It is the author's cry to the world to be seen as human and not as other.
G. Picconatto (they/them) is a queer jack-of-all-trades, but they are a scientist by academic study. They moonlight as a poet and a creator of silly zines (mostly about monsters). Picconatto features their work primarily on their Instagram: @pisces_witxh, but they have work on the website TransJoy and an article in Forensic Science International.