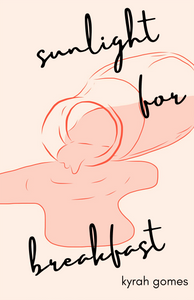 Poetry, chapbook, 36 pages, from Bottlecap Features.
sunlight for breakfast is an exploration of hunger in a myriad of forms, from longing, nostalgia, and love, to religion, language, and human consumption. think of it as photosynthesis - making a meal from the sun, regardless of the shape it takes. whether you prefer sweet, savory, or bitter, sunlight for breakfast provides fullness and contentment in twenty-three poems.
this collection is abundant with ripe fruits, divine offerings, and juxtapositions. it is for those who know that survival is to drink without expecting thirst to disappear. growing from mixed-race girlhood, these poems are flowers in a burning field, walking the line between redefining and recognizing femininity, and accepting embrace as a powerful act of revolt.
kyrah gomes is a multidimensional artist and fresh fruit aficionado from nyc, currently living in tampa, fl. she writes to create something tangible and is as much of a poet as any other human being. her poems have appeared in Velvet Fields, LEVITATE, Paper Crane Journal, Superfroot, warning lines mag, and other publications. you can send her comments, hate mail, or your favorite playlists on instagram @kyrah.isabel, or via her website kyrahgomes.square.site.